❤️The "Music Sheet Nativity Ornament" is a delightful set of five Christmas tree ornaments, each with a unique and meaningful message. Each ornament features a classic Christmas carol and its corresponding music sheet, making it a perfect addition to your holiday decorations.🎄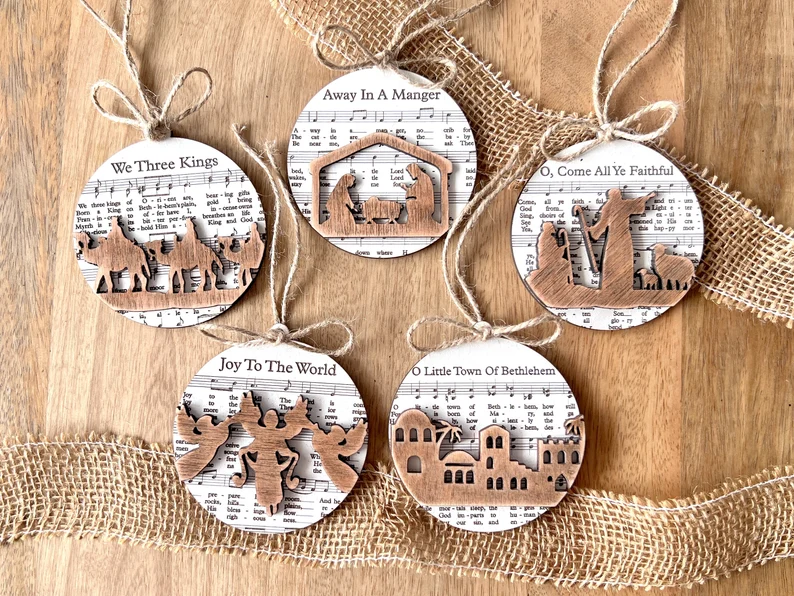 🏠O Little Town Of Bethlehem: This carol paints a picture of the quaint, quiet town of Bethlehem on the night of Jesus' birth. The streets are hushed, and the stars in the clear, night sky shine brightly. Mary and Joseph, with the baby Jesus, are shown in a humble yet significant moment, surrounded by the town's peaceful and slumbering residents.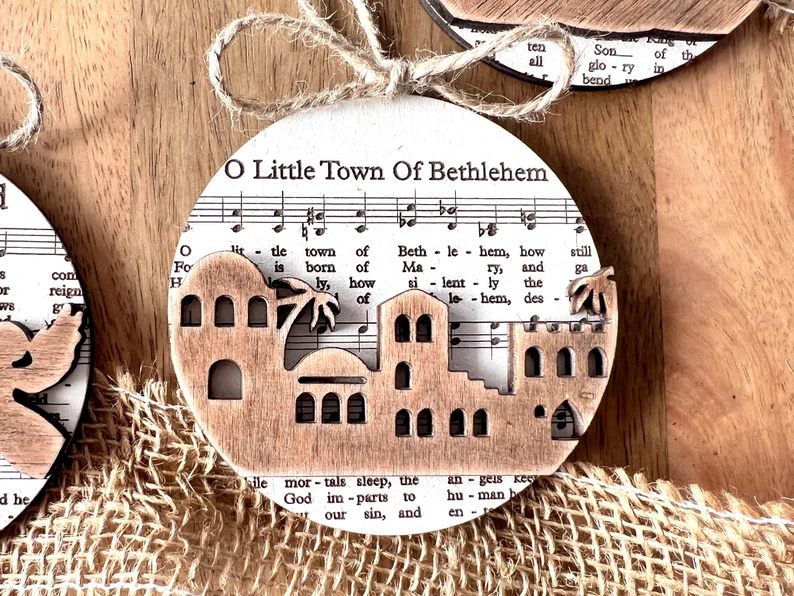 🐑Away In A Manger: This carol portrays a peaceful scene of the baby Jesus lying in a manger, surrounded by Mary and Joseph, and adoring animals like oxen and sheep. The setting is a humble stable in Bethlehem, illuminated by a soft, radiant light, creating a sense of serenity and reverence.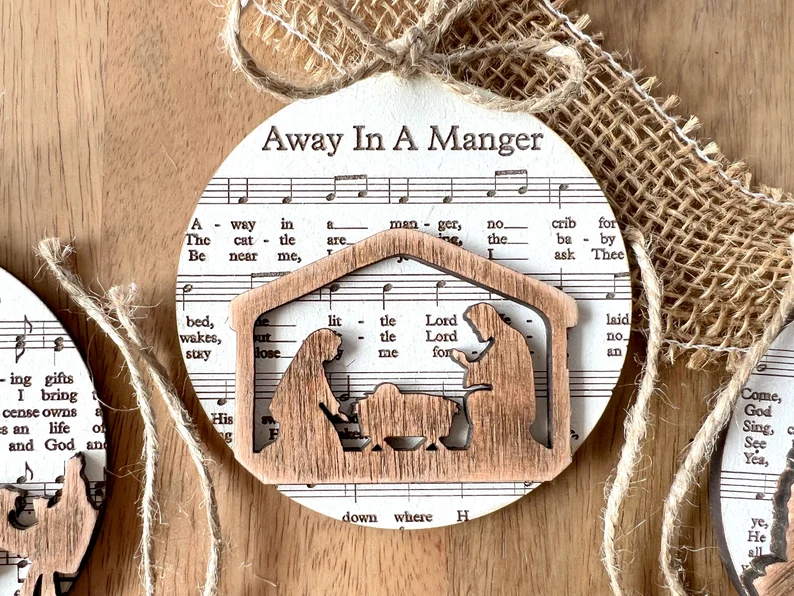 🎶O, Come All Ye Faithful: This carol evokes the image of a grand and joyous midnight Mass celebration in a magnificent church. The congregation gathers with candles in hand, their faces filled with anticipation and devotion, ready to worship the newborn Christ. The atmosphere is filled with the sounds of singing and the rich tones of the church's organ.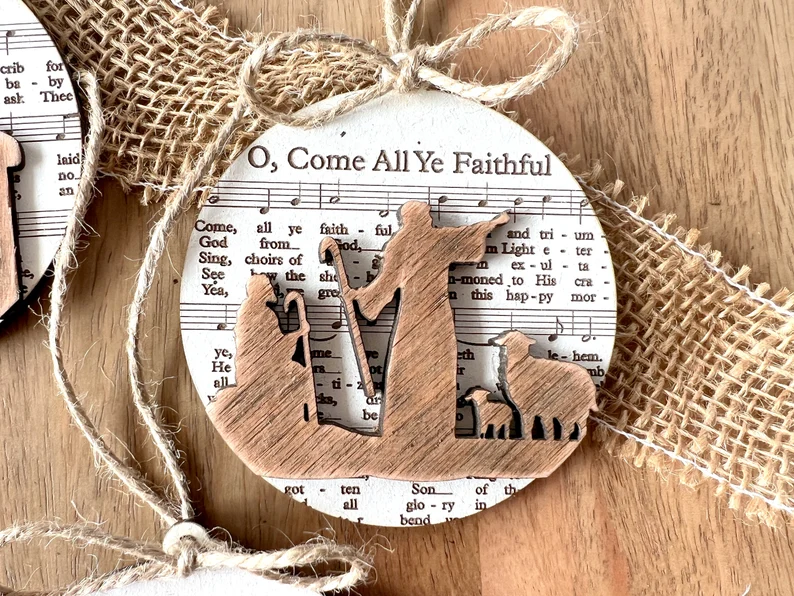 👑We Three Kings: This carol portrays the journey of the three wise men or kings from the East as they follow the guiding star to find the newborn Jesus. They are seen riding on camels, each bearing gifts of gold, frankincense, and myrrh. The desert landscape is a backdrop, and the sky is clear, highlighting the celestial star leading them to the divine destination.
❤️Joy To The World: This carol represents a jubilant scene of celebration, as the world rejoices in the birth of Jesus. People of all backgrounds and ages gather together in a harmonious celebration, singing and rejoicing with exuberance. The scene is full of color and vibrancy, with decorations and lights adorning the surroundings.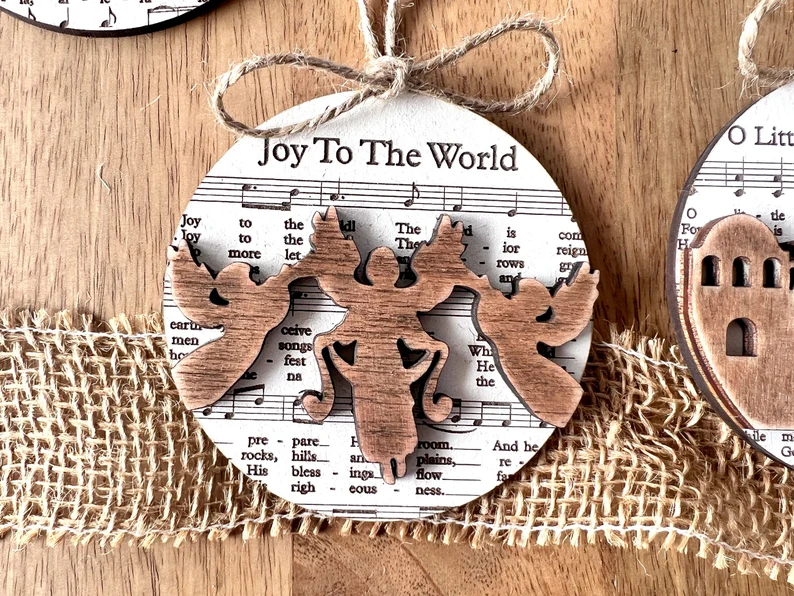 Each of these ornaments is also adorned with wooden relief decorations, enhancing their rustic charm. The "Music Sheet Nativity Ornaments" bring a harmonious blend of music, tradition, and nativity-inspired art to your holiday celebrations, making them a wonderful addition to your festive decorations. Share the joy and meaning of Christmas with these beautifully crafted ornaments that will surely become cherished heirlooms for years to come.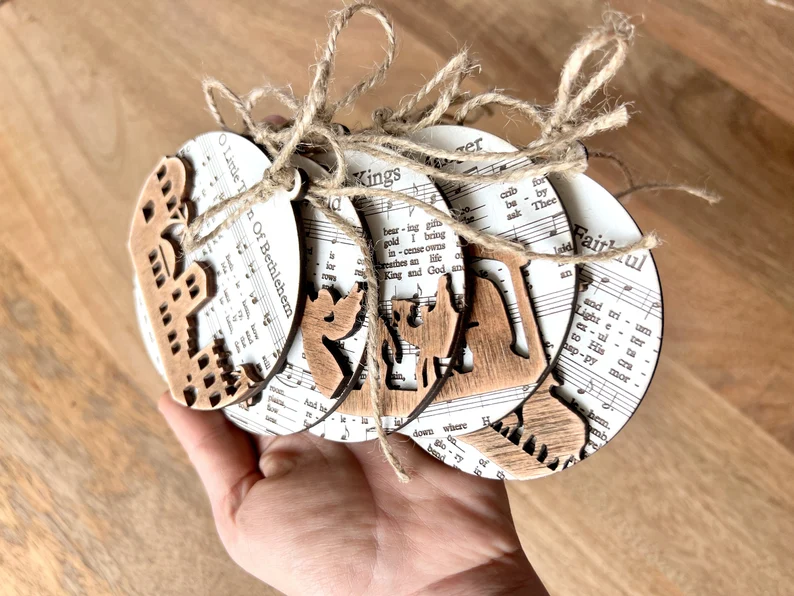 Every item in our shop is handmade, hand-painted, and unique. The image provided is an image of the actual product you will receive.
Specification:
Handmade
Size: approximately 3.5" x 3.5"/9*9cm
Color is white painted background with dark stained second layer overlay
Comes with jute twine for hanging
Materials: Wood, Music sheet, Love